News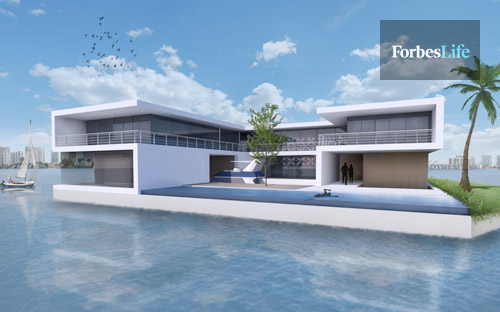 FORBES: Christie's to Sell the World's First Portable Private Islands
Christie's International Real Estate has announced a new initiative to build self-sufficient and eco-friendly private islands around the world for consumers looking for a unique residential opportunity. The world's first truly portable private islands.
Amillarah Private Islands will allow guests to make their own self-sufficient island and determine its location anywhere in the world. Brands often provide luxury services by adhering to the consumer's every wish, and Christie's, along with its partner Dutch Docklands, will be bringing both luxury real estate and customization to a new level with these islands.
"This partnership with Dutch Docklands fits in perfectly with our strategy," said Michael Sherman, vice president of corporate communications, Christie's International Real Estate, New York.
A private island to call your own may sound like a fantasy or a lifelong dream, but with Amillarah Private Islands it is a reality.
Amillarah has created unique tailor-made floating residences designed by famed Dutch architect Koen Olthuis, who was named one of the most influential people by Time Magazine. These completely self-sustainable floating islands are free from environmental impact, safe from rising sea levels, and will create a new underwater habitat for sea life.
Create your own private paradise wherever you want. Not only can you customize the size, shape, and style of your floating residence, but you get to choose where you want it to be located. Miami? Maldives? Dubai? New York?
Amillarah is the creative vision of expert developer Dutch Docklands. Founded in 2005 by Paul H.T.M. van de Camp and Koen Olthuis, this innovative company is based on hundreds of years of Dutch expertise or "Know-H2OW" in water defense technology and management.
For hundreds of years the Dutch have lead the world in water defense technology, which is why Amillarah Private Islands' developers Dutch Docklands was the perfect fit to develop these luxury, floating islands. Working globally in cooperation with Christie's and famed oceanographer Jean-Michel Cousteau's Ocean Futures Society charity, this is the ultimate team.
Whether you prefer a romantic styled island surrounded by natural green, your own tropical island with white sandy beaches or a modern urban contemporary styled island, it is up to the buyer.
Amillarah Private Islands are self-sufficient, scarless developments with the latest state-of-the-art green technology, which keeps their environmental impact at a minimum.
Completely stable on the water, the base of the island is built to last for far over 100 years and will create a new underwater habitat for sea life.
MALDIVES
In one of the most beautiful lagoons in the Maldives, the company is developing in a Joint Venture with the Government of Maldives 10 Amillarah Private Islands. The breathtaking lagoon is only a 25-minute boat transfer away from the airport. The islands will all be designed with a maximum of privacy and luxury in mind, giving the owners the ultimate get-away-from-it-all.
DUBAI
The company has signed a deal with OQYANA Real Estate for a total of 33 Amillarah Private Islands within the OQYANA WORLD FIRST developments on 'The World Islands' project in Dubai.
The deal was inked in Dubai between Ali O Alghannam, CEO of OQYANA Real Estate and Paul van de Camp, CEO of Dutch Docklands, in the presence of Zeyad Abdullatif Janahi, the Chairman of OQYANA Real Estate Company.
MIAMI
Connected to the Inter Coastal and the Ocean, a 175 acre Lake will be the scene of the first Amillarah Private Islands in the United States.
30 Amillarah Private Islands and a VIP amenity island will service the rich and famous of the Miami upper crust while providing the ultimate bragging rights.
Private boat service, butlers and a well-trained island staff ensure a luscious stay at one of the world's most talked about developments in recent decade. The Miami islands will be surrounded by the upscale nightlife, restaurants , shopping and entertainment this ultimate destination has to offer.
Source: ForbesLife, www.forbes.com
« Go back