News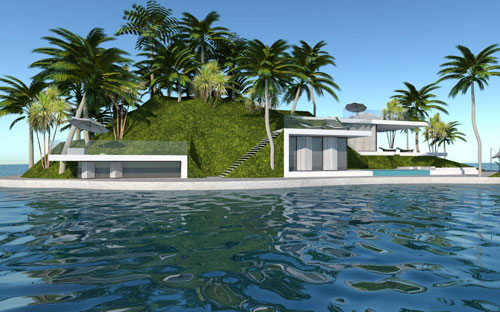 Nakheel officially approves first unique Floating Private Island project in 'The World' – Dubai
Master developer of the spectacular "The World Islands" project in Dubai has granted OQYANA Real Estate and Amillarah Private Islands all the requested permits to take the next step in a unique Floating Private Islands development.
DUBAI (June 03, 2015) - 'OQYANA Real Estate', one of the leading Real Estate developers, has signed a deal with Amillarah Private Islands, Ultra Luxury Floating Private Island developer, earlier this year to create a series of Floating Private Islands within the 'OQYANA World First development' on 'The World Islands' project in Dubai.
Nakheel, the master developer of 'The World Islands' project, has now granted this project with all the necessary permits in order to take the next step to create one of the most exclusive developments in 'The World Islands' project in Dubai. This therefore being the first floating project officially approved by Nakheel.
"Oqyana World First is testament to our vision of pioneering unique Real Estate developments that genuinely break new ground and the cooperation with Amillarah Private Islands underlines our vision to be the leaders in "The World" said Zeyad Abdullatif Janahi Chairman of OQYANA Real Estate Company and Ali O Alghannam, CEO of OQYANA Real Estate
"We are the only company in the world offering Floating Private Islands, tailor made to the clients specifications, based on our Dutch heritage of hundreds of years of working with the water" said Paul van de Camp, CEO of Amillarah Private Islands. "We are very proud that we have reached this important milestone and we are looking forward to take the next step in this exciting development" he concluded.
OQYANA World First is the developer's flagship project, composed of an archipelago of artificial islands together forming the continent of Australasia in 'The World' development off the coast of Dubai. The development comprises high-end villas opening up onto private beachfronts, contemporary seaside apartments and hospitality and retail elements. The cooperation with Amillarah Private Islands will add 33 Ultra Luxury turnkey Floating Private Islands to the development. Each Island will be completely self- supporting and comprises its own residence, garden, pool and beach.
ABOUT OQYANA REAL ESTATE:
'OQYANA' is derived from the Arabic word 'Oceanic' - a fitting name for a project, and eponymous developer, where water plays an integral role in creating memorable living spaces.
"OQYANA Real Estate Company (OREC) was incorporated in the year 2002 with principle objectives comprising of direct and indirect investment in real estate opportunities, preparing studies and providing consultancies to all types of real estate activities, investing company's surplus in financial and real estate portfolios managed by specialized companies. OREC is the proud owner of 'OQYANA World First' Project which is the Australian Islands part of the iconic 'The World Islands' project and the 'Water Garden City' project in the Kingdom of Bahrain.
www.oqyanarealestate.com
ABOUT AMILLARAH PRIVATE ISLANDS:
Amillarah Private Islands are the unique embodiment of Luxury, Privacy and Freedom and is the latest exciting development in Real Estate!
For hundreds of years the Dutch have lead the world in water defense technology, which is why Amillarah Private Islands' developers Dutch Docklands is expertly placed to develop these luxury, Floating islands. Working globally in cooperation with Christie's International Real Estate and famed oceanographer Jean-Michel Cousteau's Ocean Futures Society charity, you couldn't be in better hands.
Various recent studies conducted by different well-established institutions shows that the trend in ultra luxury Real Estate for the next 10 years is Private Islands. People are looking for more Privacy, Intimacy and Freedom; different ways of living that better reflects their lifestyle and their demands.
Amillarah Private Islands creates the unique and unprecedented opportunity to develop completely self-supporting Floating Private Islands at any possible location in the World. Each Island will have its own residence, garden, pool, beach, etc. and even the size and shape can be customized according to the owners' preferences.
There is nothing more exclusive and sought after in the world than having your own Private Island, any shape, any place.
www.amillarah.com
« Go back