News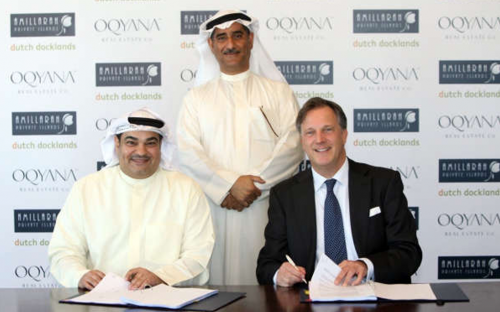 OQYANA REAL ESTATE inks deal with Dutch Docklands
'OQYANA REAL ESTATE' inks deal with 'Dutch Docklands' for work on exclusive Amillarah Private Islands villas within the 'OQYANA WORLD FIRST' development on 'The World Islands' project in Dubai. One villa islands add high-end exclusivity to 'OQYANA World First' project
Dubai - January 8th, 2015 - 'OQYANA Real Estate', one of the leading real estate developers, has signed a deal with floating island expert 'Dutch Docklands' to create a series of Amillarah Private Islands villas within the 'OQYANA World First development' on 'The World Islands' project in Dubai.
The deal will see 'Dutch Docklands' bring centuries of water management expertise to help shape personalised private islands and villas within the OQYANA World First project. Each private island will house just one villa to craft the pinnacle of exclusive island living.
The deal was inked in Dubai between Ali O Alghannam, CEO of OQYANA Real Estate and Paul van de Camp, CEO of Dutch Docklands, in the presence of Zeyad Abdullatif Janahi, the Chairman of OQYANA Real Estate Company.
"This is a historic day for us all. We are very pleased with our collaboration with 'Dutch Docklands', and the ability to bring their specific expertise to 'OQYANA World First', the leading project in the World development. Our vision has always been to be leaders in the idea of the World, and it is now the right time to recommence activities and turn concepts into reality. Dubai has always been the right destination for such projects and we will work together to be an integral part of Dubai's real estate sector," said Zeyad Abdullatif Janahi.
"Dubai is an amazing city and 'The World project' is a fabulous development. Having your own private island close by a world class city will be a unique opportunity for a very selective group of people that only want the best. This new development will diversify the already impressive Dubai real estate market to a new level of luxury. Our 'Amillarah Private Islands' are completely self-supporting, scarless and all contain the latest state-of-the-art technology. Each one will be a piece of art that you can live in," said Paul Van de Camp.
"OQYANA World First is the developer's flagship project, composed of an archipelago of artificial islands together forming the continent of Australasia in 'The World' development off the coast of Dubai. The development comprises high-end villas opening up onto private beachfronts, contemporary seaside apartments and hospitality and retail elements, and has been described as the definitive destination for waterside luxury. 'OQYANA' is derived from the Arabic word 'Oceanic' - a fitting name for a project, and eponymous developer, where water plays an integral role in creating memorable living spaces.
"OQYANA Real Estate Company (OREC) was incorporated in the year 2002 with principle objectives comprising of direct and indirect investment in real estate opportunities, preparing studies and providing consultancies to all types of real estate activities, investing company's surplus in financial and real estate portfolios managed by specialized companies. OREC is the proud owner of 'OQYANA World First' Project which is the Australian Islands part of the iconic 'The World Islands' project and the 'Water Garden City' project in the Kingdom of Bahrain.
« Go back